SIGN 'O' THE TIME
SOTT a été diffusé lors d'un festival dont Serge Gainsbourg était membre du jury. SOTT a été projeté au Max Linder de Paris en été 1989 et dans plein de salles en angleterre.
Après les 70 millions de dollars remportés en 1984 par Purple Rain, Prince est allé à l'opposé des attentes et du succès avec le rétro "Under the Cherry Moon", réalisé en 1986, faisant alors douter sur ses talents cinématographiques.
En réalisant le coloré et novateur "Sign o' the Times" Prince offre au monde un film-concert pointu, lumineux, à la hauteur du double album qu'il illustre et que beaucoup de critiques considèrent comme étant son plus grand chef-d'œuvre. Traité et fignolé à la perfection à Minneapolis, le film démontre les talents de son nouveau groupe (Sheila E. sexy et déchainnée à la batterie dans un solo époustouflant à ne pas rater). Des 10 membres du groupe, le saxophonist Eric Leeds livre une magistrale reprise de "Now's the Time" de Charlie Parker. La clavieriste et vocaliste Bonie Boyer hurle efficacement sur une version folk revivifiée géniale de "Forever in My Life." Les treize titres du film ont été extraits de concerts en Hollande et à Paisley Park.
Sign o' the Times est un film-concert conceptuel alors complètement original : les performances musicales (et quelles performances !) sont mixées à des scènettes très stylisées au surréalisme emprunté au double album du même nom. L'action se passe autour de Prince, de la sexy métis Cat Glover qu'il courtise et du rival Wally Safford. Les themes évoquent sous des formes jazzy/pop/rock, urbaines et théatrales, l'amour, la luxure et la spiritualité (le trio éternel de toute création Princière).
Si "U Got the look" avec la plantureuse Sheena Easton, est ni plus ni moins le clip du tube, la plulpart des titres, sinon tous, sont complètement revisités musicalement, comme Prince en a souvent l'habitude. Le morceau de bravoure : sans doute le Rockissime "I could never take the place of your man" avec un solo de guitare transcendé par une image superbe. Également une volcanique version de "Housequake".
En salle, la projection du film avait provoqué des critiques exceptionnelles. Dés sa sortie, on avait à faire au "meilleur film rock". Visuellement, le film est terriblement attirant et moderne. Les performances scéniques sont des modèles que certaines "j'veux être une star qui chante+danse+joue" devraient méditer à coup de touches replay…
Un obscure court métrage…
Prince à réalisé en 1987 un court mettrage : "The Hard Life" (ou plutot "A Twisted Tale About Two Bums Living The...Hard Life", titre original).
C'est un film de 15 mn réalisé par Prince en 1987.12 min de montage / + de 6 heures de film tourné en pleines répètes du SOTT tour. C'est un film inedit qu'on peut trouver en Pirate ou sur le CD-rom que Moonraker avait sorti en 1997 "Freedom 1.0" (160 Mo). L'histoire est assez rocambolesque et ce film utilise la musique de l'album "8" de Madhouse. Poersonne ne semble savoir a quoi devait servir ce film !
Production : Shadetree. Jill Jones y a le rôle principal avec Greg Brooks et Wally Safford.
Cast : Jill Jones, Mico, Cat, Dr Fink et Eric Leeds en gardien de prison, et même la mère de Dr Fink qui joue la vieille dame du début. Le père de Prince, John L Nelson a aussi un petit rôle (il joue au billard). Dans le generique, il est ecrit "Misdirected by Prince" ! "hard life" c'est un des premiers essais de prince en tant que scénariste, ce qui est étrange c'est que l'ambiance est assez glauque : en deux mots, Greg et Wally sont deux clochards jetés en prison après une altercation avec la mère de Dr fink. Une rock star, Gillian Stoneheart (Jill Jones) passait par là et vient les libérer, elle les engage comme serveurs pour une fête qu'elle organise. Lors de la fête, on voit le groupe Madhouse sur scène (ma fête a lieu dans une sorte de hangar (the warehouse?) ou des gens dansent et jouent au billard.
Les deux clochards profitent d'un moment d'inattention pour aller voler des bijoux dans la chambre de la rock star, qui débarque par surprise et entraine l'un des deux dans son lit finalement ils sont quand même jetés en prison pour le vol, mais la rock star vient a nouveau payer leur caution pour les libérer, et la morale du film apparait à la fin : "le crime ne paie pas, mais les rock stars chaudes oui!"…

After a $70 million-"Purple Rain," Prince bombed with "Under the Cherry Moon," raising doubts about his talents as an actor and director… Sign o' the Times is a first-rate concert film overdubbed to perfection in Minneapolis. It captures Prince and his furious band (Sheila E. on drums: wow!). The 13 tunes on the movie were culled from concert appearances in Holland and a performance in Prince's Paisley Park studio, in Minneapolis.
Sign o' the Times is conceptually strong and visually riveting. The musical performances are linked by stylized vignettes that combine street grit and freaky surrealism to dramatize a love triangle including Prince and the sexy singer-dancer Cat Glover and backup singer Wally Safford (a Detroit native). Admittedly, the story line is loose at best. The theatrical pieces take place on a stage set taken from the surrealistic "Sign o' the Times" album cover and evoke the themes of love, lust and spirituality.
From the 10 band's members, the saxophonist Eric Leeds leads a rendition of Charlie Parker's "Now's the Time," while keyboardist-singer Boni Boyer wails a counterpoint vocal on "Forever in My Life." Sheila E struts her stuff on "It's Gonna be a Beautiful Night" - with Prince taking over the drum kit - and the Purple one takes center stage again to close the film with a sensory-numbing version of "The Cross."
Little of the music sounds dated. Perhaps the ambiguity of that definite article in the title is as brilliant as the rest of the LP, which has a specificity that will remain applicable long after the Challenger explosion referenced in Prince's lyrics is forgotten. "Sign O' the Times" is the sign of anytime, a landmark achievement from another era that continues to show us how much one man can accomplish alone in a recording studio.
"A Twisted Tale About Two Bums Living The...Hard Life"
This is a 15 mn short movie realised by Prince in 1987.12 min shooted from 6 hours during the SOTT tour. A real bootleg treasure on the CD-rom released by Moonraker in 1997 "Freedom 1.0" (160 Mo), somtimes avalaible online…
The story is rather "weird "and use the music from the Madhouse's "8" album. Nobody seems to know what this movie was intended for!
Production : Shadetree. Cast : Jill Jones, Greg Brooks, Wally Safford.Mico, Cat, Dr Fink and Eric Leeds as jail's guards. Dr Fink has his mother playing an old lady in the begining and Prince's father John L Nelson has a small role (he plays snooker).
It's said that the movie is "Misdirected by Prince" !
"…Hard life" is the first movie story written by Prince and it's pretty strange :
Greg and Wally are two homelesses. They have a trouble with Dr fink.'s mother so they go to the jailhouse. A rock star, Gillian Stoneheart (Jill Jones) comes around the place (why?) and st them free and engage them as waiters for a private party. A band plays (Madhouse) at the party in a kind of warehouse where people dance and play snookers.
During the party, the two homelesses stole the rock star's jewells, the girl enter the room but she get one of them in her bed… The two guys finaly go back to the jail but the rock star set them free once again. This ends up with : "the crime don't pay, but hot rock stars do"! Who said Prince is not a macho?
BATMAN

1989 - 90mn
Production:
Tim Burton, Jon Peters, Peter Guber, Chris Kenney
Director:
Tim Burton
Cast:
Jack Nicholson (Joker/Jack Napier), Michael Keaton (Batman/Bruce Wayne), Kim Basinger (Vicky Vale), Robert Wuhl (Alexander Knox), Jack Palance (Carl Grissom), Michael Gough (Albert)

La monumentale tournée américaine Lovesexy à peine sauvée par la tournée japonaise, Prince a besoin de nouvelles rentrées financières afin d'assouvir sa productivité… Cat et Sheila E quittent Paisley Park. Sheila E laisse pour dernière empreinte le titre "Scarlette Pussy", qui ne figurera pas sur son 4ème album "Love Cymbal", qu'elle souhaite radicalement différent des productions estampillées Prince. En 1989, Jack Nicholson est un grand fan de Prince. C'est lui qui recommande Prince auprès de Tim Burton pour la musique de l'adaptation tant attendue des aventures de Batman à l'écran, le super héros américain créé par Bob Kane.
Tout comme Purple Rain, la musique du film est davantage un album de Rock star qu'une vraie bande originale de film. Batman est un peu une exception dans la discographie de Prince… Le film possède en fait deux B.O, l'une orchestrale d'un compositeur classique Danny Elfman, l'autre, le nouveau succès commercial de Prince.
Le titre éponyme est N°1 et largement diffusé ensur les radios. Second single, Partyman, malgré une version longue détonnante, reçoit un acceuil mittigé (le titre est d'un accès peu évident). Travaillant égallement sur un album pour Sheena Easton, pour laquelle il avait déjà écrit un hit superbe "Sugar Walls" en 1984, un duo nait, le naïf "The Arms of Orion", qui n'est pas le slow de l'année… Qu'importe, les caisses sont largement renflouées (argent qui serat bêtement gaspillé pour le film suivant, "Graffiry Bridge"…). Prince multi-millionnaire mais aussi de retour dans la presse people avec sa liason mystérieuse avec l'actrice envoutante de "9 semaines et demie" : Kim Basinger, second-rôle dans Batman. Celle-ci offrira quelques gémissements torrides à Prince pour le très Rock & Roll "Peach".
Dans une moindre mesure que pour le film "Girl 6" de Spike Lee, Batman distille savament la musique de Prince, créée pour l'occasion. Des compositions Rock et funck très calibrées et d'une grande sobriété, sombres, presques angoissées. Vendu dans les hypermarchés (plus de 6 millions d'exemplaires), l'album est le mal-aimé des fans de l'Artiste. Pourtant, "Batman", le titre phare, est un pionnier réussi de house-music, "Vicky's Waiting" est sans doute le meilleur morceau avec le magnifique "Scandalous", et "Electric chair"est un brullot de rock tendu. Bref, un album et un film qui ont satisfait les pressions commerciales, ce qui démontrent bien les capacités commerciales de masse de Prince …

Prince inspired by Gotham City, a neo-gothic, extremely claustrophobic version of New York City created by Bob Kane… Batman: two faces…
The monumental Lovesexy Tour just saved by the japaneese tour, Prince needs the money to still produce music. Cat and Sheila E have left Paisley Park. Sheila E ends her Paisley collaboration with "Scarlette Pussy" which is not on her 4th album "Love cymbal", a commercial warner album. 1989, Jack Nicholson is a big Prince fan, he recommands Prince to Tim Burton for the Batman soundtrack. Not really a soundtrack, in fact. It's rather a rock star album made around a blockbuster-ovie. Batman is an exception into the Prince's discography…The movie has two soundtracks, in fact: an orchestral one by Danny Elfman and a pop success one made by a big star.
The single Batman is a worldwide hit. The second one, Partyman, despite a great video and a great extended version, gets mixed critics (the song is quite complicated for a hit). Working on the new Sheena Easton album,(he already wrote the hit "Sugar Walls" in 1984), Prince invites her on "the Arms of Orion": naive song but not the slow of the year… Anyway, the million $ are back again (later stupidly wasted on the next movie "Graffiry Bridge"…). Prince multi-millionnaire and back in the pepole's news with Kim Basinger, Vicky in Batman. A strange love affair…The girl will later moan on the Rock & Roll hit "Peach".
In a far better way than "Girl 6", Batman is promoting the music of Prince, a music actualy inspired by the world of Batman. Rock et funck tracks, very sober and dark. Sold in hypermarkets (+6 millions copies sold), Batman the album is not a favor for a Prince fan. Even if "Batman" the single is a great house-music pionneer, "Vicky's Waiting" the very best track, "Scandalous" simply wonderfull" and Electric chair " a missed rock bomb. A movie and an album doing the job very well: proof that Prince CAN "make the money with the masses"…



Batman

Videos:
Batman
Partyman
The arms of Orion
Scandalous

ALBUM
Batman - Prince
1 - The futur
2 - Electric Chair
3 - The arms of Orion
4 - Partyman
5 - Vicky waiting
6 - Trust
7 - Lemon crush
8 - Scandalous
9 - Batdance
Sign o' the times




1987 - 87mn - Video VHS
DVD 2005 (Canada)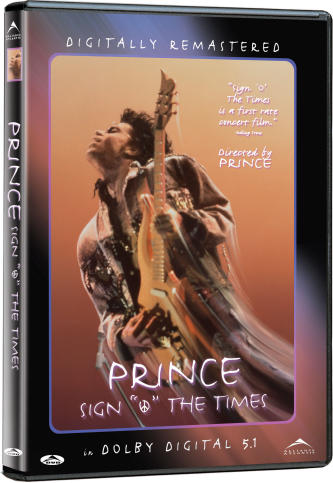 Director:
Prince
Production:
Joe Ruffalo, Robert Cavallo, Steve Fargnoli
Cast: Prince, Sheila E, Cat
Videos:
Sign 'O' the Times
U got the look
I Could Never Take the Place of Your Man
ALBUM
Sign O' the times - Prince
1. Sign 'O' the Times
2. Play in the Sunshine
3. Housequake
4. Ballad of Dorothy Parker
5. It
6. Starfish & Coffee
7. Slow Love
8. Hot Thing
9. Forever in My Life

10. U Got the Look
11. If I Was Your Girlfriend
12. Strange Relationship
13. I Could Never Take the Place of Your Man
14. Cross
15. Gonna Be a Beautiful Night
16. Adore
Thanks to: Alex (de Marseille), Purple-Jerome, Laurent Calhoun Square.