Lenny Kravitz: Greatest hits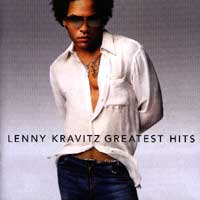 2000.
Hits:
Let Love Rules
Are you gonna go my way
American woman
Stand by my woman
Website: lennykravitz.com
Lenny Kravitz
Né le 26 mai 1965 à New York, Lenny Kravitz est fils d'un juif blanc, producteur de télé et d'une actrice noire des Bahamas. Tout gamin Lenny tourne déjà dans des publicités (Burger King) et séries TV. Après des études musicales à la Beverly Hills Hight School en Californie, ce multi-instrumentiste fait une tentative ratée du côté du disco avec son cousin sous le nom de Romeo Blue. Mais c'est en 1989 avec l'album et le titre éponyme Let Love Rules, très rétro '70, qu'il rencontre le succès, avec des références à Jimi Hendrix et aux Beatles.
Son look Pop-Rock '70 et ses clips très léchés contribuent à son succès principalement en Europe.
Aux Etats-Unis, il se fait connaître en écrivant pour Madonna la chanson Justify My Love en 1990, un énorme tube. Il compose également pour Aerosmith et Al Green, ainsi que pour Vanessa Paradis, qui retrouvera ainsi l'espace d'une chanson un petit succès mérité.
De 1991 à 93, les albums Mama Said avec Julian Lennon au Piano et Slash à la guitare, et Are You Gonna Go My Way, remportent un joli succès mondial.
L'album Circus, sorti en 1995, et en 1996 une chanson qui se révellera finalaement écrite par prince : Cant Get you Off My Mind (il existe la version originale interprétée par Prince).
En 1999, l'abum 5, d'où est tiré le titre American woman que l'on retrouve sur la bande originale du film Austin Power, "The spy who shagged me", lasse les critiques. Après un Best Off bien mérité en 2000 et une participation remarquée dans la vidéo de Prince Rave Un2 the Year 2000, Lenny sort en son dernier album en date : Lenny, comme pour revernir au pont de départ. Idem pour sa vie privée, puisqu'il divorce en 2004 de son étoile Nicole kidman.
Born on May 26, 1965 in New York, Lenny Kravitz has a white jewish producer father and of a black mother, an actress from the Bahamas. Lenny kid appeared in a Burger King's TV add and in a few TV soaps. After musical studies in Beverly Hills Hight School in California, this multi talented artist tried the disco music with his cousin under the name of Romeo Blue. But it's in 1989 with the album and title track 'Let Love Rules', very 70's, that he get success, with references to Jimi Hendrix and the Beatles. His very 70's Pop-Rock'n'roll style and his catchy videos contribute to his success, mainly in Europe. In the United States, he becomes a star by writing for Madonna the song 'Justify My Love' in 1990, an big scandalous hit.
Lenny also composed music for Aerosmith et Al Green, and for the french mid-80's lolita Vanessa Paradis, who later married Jhonny Depp.
From 1991 to 93, the albums Mama Said with Julian Lennon on the Piano and Slash on the guitar, and Are You Gonna Go My Way, gain a pretty worldwide success. The Circus album is released in 1995, and in 1996 there's a song which is written by prince: Cant Get you Off My Mind (there's an original version interpreted by Prince).
In 1999, the abum 5, withe the hit 'American woman' used for the movie Austin Power, The spy who shagged me, don't excite critics much. After a Greatest Hits well deserved in 2000 and a duet with Prince in the video Rave Un2 the Year 2000, Lenny releases his latest album: Lenny, like a come back to the roots. Same thing for his private life, since he divorced in 2004 his shining star, the actress Nicole kidman.