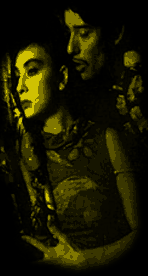 Les enfants terribles du Rock français
Sortes d'"enfants terribles" d'un Rock français "alternatif" décomplexé de tout modèle américain, les Mitsouko sont des incontournables de la génération "Top 50", ayant réussi l'exploit de faire de l'alternatif millionaire en opposition totale avec la Jet Set du Show Business. Et pour cause, les Ritas ont connus la vraie "galère" : Fred Chichin a eu des soucis avec la police dans les années 70 et Catherine avec le ciné érotique (Gainsbourg le lui reprochera de manière agressive sur Canal +). Nos deux décallés du Rock se retrouvent dans leur premier groupe : Flash Rouge, qui passe une fois à la TV, puis fondent le duo Les Rita Mitsouko, avec pour ambition de faire parler d'eux…
En 1983 sort leur premier album "Don't forget the nite", est sombre et tonique à la fois. On y découvre déjà un gout prononcé pour ce que l'on appellera plus tard la "World Music", en l'occurence avec "Oum Kalsoum". L'anecdotte de Catherine donnant des concerts munie de gants Mapa et de sacs poubelle fera le tour des maisons de presse ! Leur premier tube est Marcia Baila, hommage à la danseuse Marcia Moretto, professeur de Catherine et morte d'un cancer.
En1984, l'album The No Comprendo les sacre icones du Rock français. Le single "Andy" est princier à fond et en 1986, on peut les écouter dans l'émission jeunesse de Dorothée l'album Parade de Prince !"C'est comme çà", dont la vidéo est signée Mondino, deviens un standard d'un rock français indépendant mais vendeur.
Les Ritas débutent une tournée internationale (Japon, Russie, USA,...) et enregistrent "Mandolino City" à Moscou. Lors d'un concert aux USA, ils rencontrent Les Sparks, et s'associent pour trois chansons. Pour l'album suivant Marc et Robert, le titre "Le petit train", au clip très esthétique, deviens un standard qui réussi la prouesse d'être à la fois très dansant et émouvant.
En 1993, pour SystèmeD, les Mitsouko s'offrent un duo avec Iggy Pop et une vidéo à 1 millions pour le commercial et confus "Y'a d'la haine". Habitués avec le cinéma, particulièrement celui mettant à l'affiche Josiane Balasko, on n'oubliera pas le titre très festif "Nuit d'ivresse".
Engagée, Catherine a signé une pétition pour la création d'une "Commission d'enquête Internationale sur les atrocités et les atteintes aux droits de l'homme en Algérie".
Pétition pour l'Algérie
En 2000 sort enfin un nouvel album assez curieux, Cool Frénésie, Rock-electro. Seulle ombre à ce retour en grande fanfare : pas un tube. Mais qu'importe, les Ritas, tels des Tziganes plus adeptes du System D que du Système, font du Rock français de scène en scène et de vibrations en vibrations…
Alternative popular
French Rock icons
Sorts of "terrible children" of a French Rock "alternative" without references to the American model, Mitsouko is the leader of the "Top 50" generation , having succeeded in making millionaire alternative Rock in total opposition with the Show Business. And for cause: Fred Chichin has had concerns with the police in the 70s and Catherine with the erotic movies (Gainsbourg will reproach it for her aggressively on Canal + TV). Their first band: Red Flash, plays once on TV, but the duet needs more ambition and create the Rita Mitsouko.
1983, their first album"Don't forget the nite", is both somber and tonic. One discovers there pronounced taste in what one later call the "World Music", with the song "Oum Kalsoum". The story of Catherine giving concerts with plastic gloves and trash bags will make the round of press agencies! Their first hit is "Marcia Baila", giving honnors to the dancer Marcia Moretto, professor of Catherine and dead of a cancer.
En1984, the album The No Comprendo make them french Rock icons. The single "Andy" is very princey and in 1986, one can watch them in the famous Dorothée's Kids Show talking hype about the Prince's album Parade! "C'est comme ça", whose video is signed by Mondino, becomes a rock standard.
The Ritas Mitsoulo then begin an international Tour (Japan, Russia, USA,...) and record "Mandolino City" in Moscow. During a concert in the USA, they meet the Sparks, and associate for three songs. For the following album Marc and Robert, the title "Le petit train" becomes a standard that succeeded the being both very dancing and moving.
In 1993, for SystèmeD, Mitsouko offers a duet with Iggy Pop and a video that costed 1 millions francs for the would-be-a-hit but confused "Y'a de la haine". Regulars with the movie soudtracks, particularly the ones putting the notice to the comic actress Josiane Balasko. One will not forget the very party-song " Nuit d'ivresse".
Catherine has signed a petition for the creation of a" International inquiry Commission on atrocities and breaches to human rights in Algeria ".
In 2000 is released at last a new curious album, "Cool Frénésie", electro-rock. But no big hit. Anyway, the Mitsoukos, sort of Tziganes following more their "System D" than the System, make the French Rock scene knowing other vibrations than the noise from commercial products.
Official Site: Wanted
Alternative: www.ritamitsouko.org
E-mail: your favorite Mitsouko Site